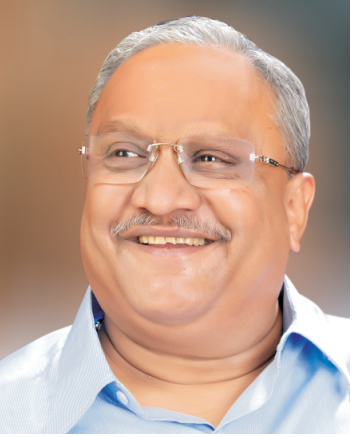 Dear Stakeholders,
In the early part of the twentieth century, the architects of the Constitution of India visualized and concluded that the education system has to be a powerful instrument of social, economic and cultural transformation necessary for the realization of India's national goals. Their dream then was to develop an education system that would increase national productivity, achieve social & national integration, accelerate the process of modernization and cultivate social, moral and spiritual values. Since its inception, Shri Vile Parle Kelavani Mandal (SVKM) has always strived to contribute to this cause of nation building.
Given this background, especially in this era of competition in every sphere of life, a country like ours needs to be at the fore-front of technological innovation. It needs engineering professionals with technical skills at par with the best in the world. It is with this focus that SVKM has laid the foundation stone of Dwarkadas J. Sanghvi College of Engineering (DJSCE), twenty-eight years ago. Since the year 1994, the College has proven itself to be one of the best institutes in the state as well as at the national level and this is abundantly reflected in the success of its students in academics; in securing admissions to top universities in India and abroad as well as in securing placements in some of the best companies.
As you are aware, DJSCE is an Autonomous Institute affiliated to the University of Mumbai. All the eligible programs, run by the college are accredited by the National Board of Accreditation (NBA) and we are indeed very happy to continue getting this recognition that is needed to enhance the status & further achievements of our students in their career. The college is also accredited by National Assessment and Accreditation Council (NAAC) with an "A" grade.
Keeping in line with the needs of the industry, we have started with many emerging area Undergraduate Programmes, such as, B.Tech. Computer Science and Engineering (Data Science), B.Tech. Artificial Intelligence and Machine Learning, B.Tech. Artificial Intelligence (AI) and Data Science and B.Tech. Computer Science and Engineering (IOT and Cyber Security with Block Chain Technology) in our institution.
Considering the long term goal of the institute, it is our firm belief that the research activities also have to be given a major thrust & all efforts are being made to continuously enhance the same. Efforts are also being made to enhance the teaching learning process on a continuous basis in the institute, adopting the latest technology practices and techniques.
During this 30th year of the institute, we reiterate our commitment to our cause of creating a breed of engineers with not just excellent knowledge, but with a keen sense of social responsibility and consciousness towards the challenges being faced by the country and the rest of the world. Our Country's youth are its greatest asset and we shall continue to nurture this valuable resource in the years to come.
Best wishes and warm regards!
Shri Vile Parle Kelavani Mandal